Our project is to understand the genetic mechanisms of cell lineage differentiation in the mouse embryo during preimplantation. We are particularly interested in the differentiation between epiblast cells (Epi) and primitive endoderm cells (PrE) which takes place during the first 3 days in mice, corresponding to the first 6 days in humans.

The epiblast cells will produce all the cells of the future individual and its descendants. Moreover, the epi is the source of the famous ES pluripotent stem cells (Nobel Prize in 2007 by Evans, Smithies, Capecchi) or similar to iPS reprogrammed cells (Nobel Prize in 2012 by Yamanaka). These cells have the capacity to give any embryonic or adult cell type and therefore have a great potential for cell therapy.

Our team is studying how in the embryo Epi cells acquire these "pluripotent" properties and how they differentiate. We are also analysing their relationships with the adjacent tissues of the PrE and trophectoderm, extraembryonic tissues that later participate in the formation of the yolk sac and placenta respectively
Research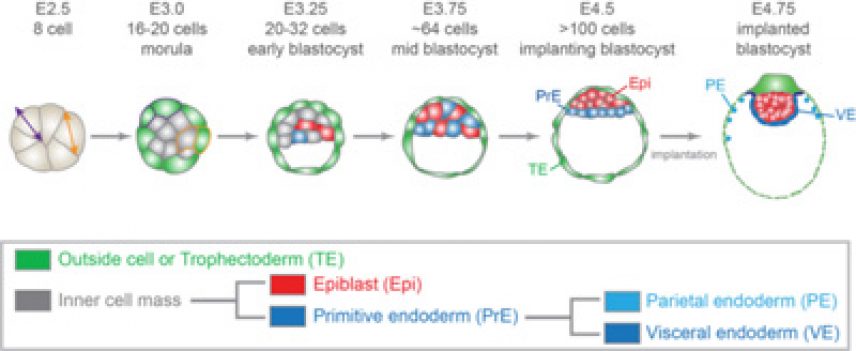 Understanding the mechanisms underlying this "developmental programme" is of paramount importance both from a fundamental point of view and for therapeutic applications aimed at using stem cells in regenerative medicine or improving in vitro fertilisation techniques. This programme clearly relies on a complex network of transcription factors and/or repressors as well as intercellular signals. The projects developed in our team are precisely in line with the characterisation of the genetic bases of the regulation of the acquisition of a cellular identity, including pluripotency.
We have demonstrated that the transcription factors NANOG and GATA6 as well as the activation or inhibition of the Fgf signalling pathway are the actors of cell specification. Thanks to the collaboration with the team of G. Dupont (ULB, Brussels) a mathematical model was developed and allowed us to put forward new hypotheses (Frankenberg et al, Dev Cell 2011, Bessonnard et al. Development 2014).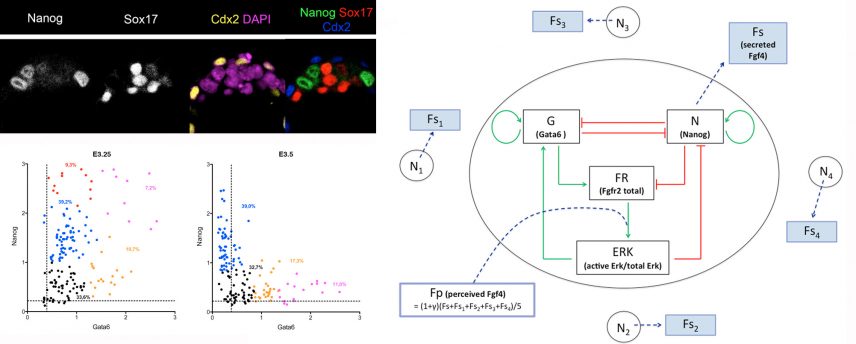 Using transcriptomic analyses on single cells, isolated or in situ within the embryo, we show that Epi cells depend on the coordinated expression of pluripotency markers. An in silico examination of human embryo cells shows that the mechanism of cell differentiation is similar in both species (Allègre et al, Nature Communications 2022).
Proximity Ligation Assay (PLA) detection shows a physical interaction between some of these factors.

Publications
20 publications