Eukaryotic genomic DNA is organized together with histones into nucleosomes, the basic subunits of chromatin. Chromatin organization is at the heart of epigenetic regulation and affects all fundamental processes operating on DNA, such as replication, repair and transcription. In order to regulate chromatin organization, nucleosome structure can be modified through post-translational modifications of histones or incorporation of histone variants, but also at the level of higher order chromatin organization by facilitating or preventing interaction of distant DNA sequences and the formation of chromatin domains.

Using the plant Arabidopsis thaliana as a model organism, our team studies how these different aspects of chromatin organization allow an adequate transcriptional response during development or in response to environmental stimuli.
Funders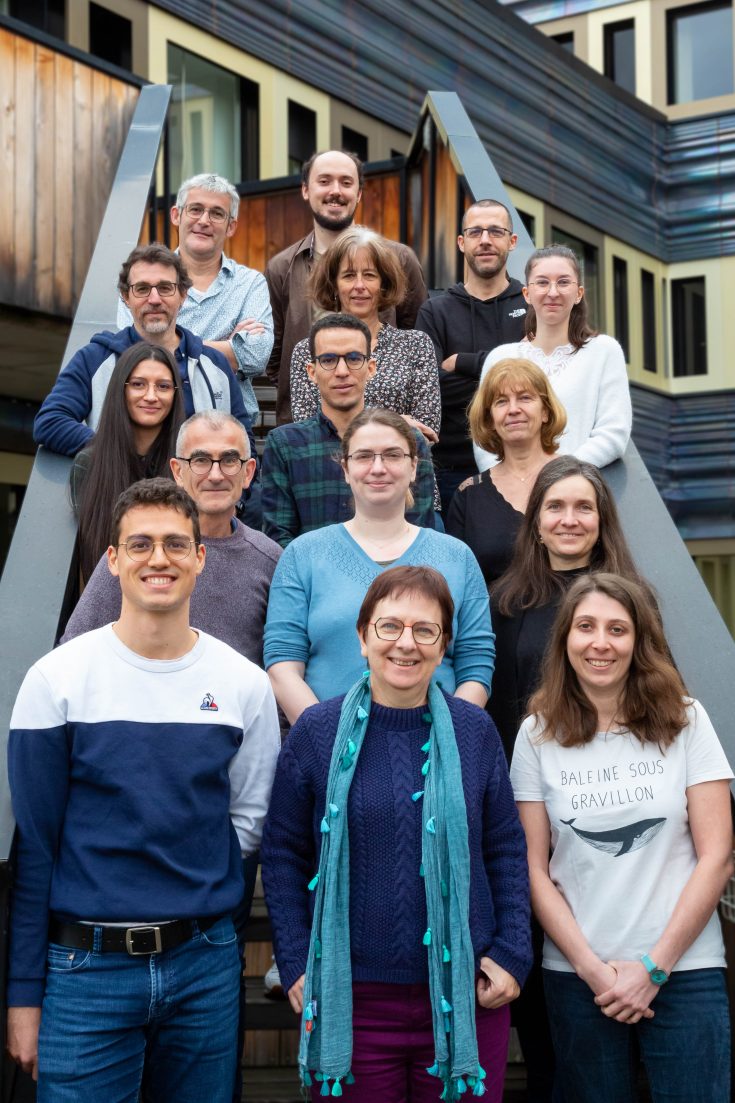 Research
To better understand the contribution of these epigenetic mechanisms in transcriptional regulation, we characterize the composition of nucleosomes in histone variants and study how these histone variants are stored, transported and incorporated into chromatin by histone chaperones (Le Goff et al, 2019, Probst, 2022). We further investigate the influence of chromatin structure on transcription via the study of GH1-domain chromatin proteins that include linker histone H1 and non-histone proteins of the TRB and GH1-HMGA type (Charbonnel et al, 2018, Teano et al, 2022). Finally, our studies of the interactions between chromatin, lamina and the nuclear envelope have led us to better understand the relationship between chromatin position in nuclear space and transcriptional activity (Poulet et al, 2017, Mermet et al, 2021).
We use molecular biology, genetics, epigenetics and bioinformatics approaches and develop new bio-imaging tools including artificial intelligence to monitor chromatin dynamics imaged by confocal microscopy (Dubos et al, 2020, 2022, Mougeot et al, 2022).
Our team is composed of two CNRS researchers, an INSERM engineer, six Associate Professors from the Clermont Auvergne University and several Master and PhD students. Our research is integrated into local networks including the CAP20-25 project International research Centre 1 (CIR1) on Sustainable Agro-ecosystems and CIR3 on mobility, national networks such as the GDR EPIPLANT, the GDR ADN&G, the GDR IMABIO, or the RtmFM network, European networks such as the Marie Curie Doctoral Network EpiSeedLink and international networks through our involvement in the Society of Experimental Biology (SEB).
We are strongly involved in the life of Clermont Auvergne University through our implication in the UFR Biology and our contribution to courses in genetics in the Bachelor of Life Sciences, epigenetics in the Master of Health Biology and in the Master of Plant Biology, and bioinformatics in the Master of Bioinformatics. We also contribute to dissemination of scientific culture through our participation in the astu'science association.
Publications
44 publications