Our research group is using Drosophila model to study molecular mechanisms that control diversification of muscle and cardiac cells during normal development and in pathological contexts. Our main goal is to apply the power of the Drosophila model and to develop cell-specific genomic approaches for analyzing genetic control of diversification processes. We are using in vitro and in vivo imaging and single cell transcriptomics to understand genetic control of cell diversification processes. We also develop applied projects dedicated to make a link between pathogenesis of muscular diseases affecting muscle subsets and mechanisms governing diversification of muscle types.
Funders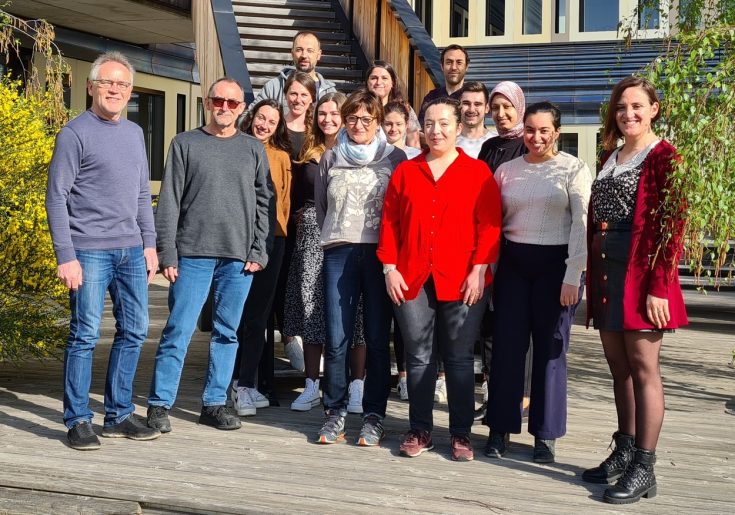 Research
Our research projects allowed to identify genes acting downstream of so-called muscle and heart cell identity factors and to define first molecular code of realisator genes that determine cell identity. We uncovered promuscular function of metabolic genes that control glycolysis. Our work shed light on mechanisms of specification and reactivation of muscle stem cells in Drosophila but also on a gene cascade that control morphogenesis of anterior portion of the heart.
Our recent work has led to identification of key transcription factor (Dar1) that control formation of appendicular tendons the role of CAP protein in cardioblast migration and fonction of Gelsolin in muscle fiber splitting.
Nous avons créé plusieurs modèles drosophiliens de maladies musculaires humaines. Dans ce volet nous avons décrit la mise en place et les analyses phénotypiques et génomiques d'un modèle de la dystrophie myotonique de type 1 (DM1), identifié un rôle du gène dCryAB de la famille sHsp dans le modèle drosophilien de la Desminopathie, et plus récemment caractérisé les implications d'un orthologue drosophilien de CACNA2D3 et de Col15 dans la pathogenèse de DM1.
L'équipe fait partie d'un Pôle stratégique MyoNeurAlp de l'AFM-Téléthon.
Nos activités de recherche s'articulent actuellement autour de deux axes:
Recherche fondamentale : i) Etudes des mécanismes de la diversification de cellules musculaires et cardiaques par les approches génomiques cellule-unique; ii) régulation épitranscriptomique et post-transcriptionnelle d'identité cellulaire; développement coordonné de muscles et tendons au cours de la myogenèse appendiculaire

Recherche appliquée : Création et analyses de modèles drosophiliens de maladies musculaires; transgenèse et d'édition du génome par CRISPR/Cas9 pour les application médicales
Publications
66 publications